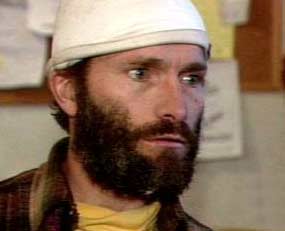 HADDEN CLARK
The strange sight of a 47-year-old handcuffed man surrounded by police walking through the woods while wearing a woman's wig must have puzzled many Cape Cod residents on the morning of April 9, 2000. The man, Hadden Clark, a cross-dressing cannibal killer convicted in Maryland of two murders, was looking for the graves of two women he claimed to have buried nearly two decades ago. The woods, located in the town of Wellfleet, were part of a 7.3-acre property once owned by his grandfather, Silas Clark. Though Clark grew up in Pennsylvania, the alleged serial killer spent his summers in Wellfleet where he worked in restaurants. Clark also met with authorities in Meriden, Connecticut, where he claims to have buried another body around 1980 in a family property owned by his maternal grandfather Maynard Scranton.
According to Maryland prison authorities Clark told a fellow inmate whom he believes is Jesus Christ that he killed as many as a dozen women and girls along the Eastern Seaboard between the mid-70s and 1993, the year he was arrested. Investigators in Massachusetts, Connecticut, Rhode Island and Pennsylvania are now trying to determine if his claims are true or just another figment of his psychologically unstable imagination. "It has not been easy," said the Cape and Islands Assistant District Attorney Michael O'Keefe. "It has been more than two decades since the killings, the topography has changed, and Clark is an individual with a number of difficulties who has been in and out of institutions." Clark suffers from paranoid schizophrenia, which was diagnosed in 1985 when he was discharged from the Navy where he served as a cook. "He's been hot and cold," an officer associated with the search told the Washington Post. "Sometimes he's truthful. Sometimes he leads you on a wild-goose chase."
Earlier this year Clark made a three-day visit to Cape Cod to lead another search of the Wellfleet property, but frigid conditions and a snowstorm forced investigators to reschedule. On the same trip he stopped at the West Mountain area in Connecticut where he refused to cooperate with authorities until they procured for him women's clothing. Agents complied and bought a skirt, panties and a bra at a nearby K-Mart. Though he complained that the skirt was the wrong size, he kept the panties and bra. In both the January and April trips Clark was accompanied by the unidentified bearded prisoner who he thinks is Jesus. Authorities justified the Jesus-look-alike tagging along because the inmate allegedly is the only person who can calm Clark down during his frequent psychotic breakdowns.
Clark is currently serving a 60-year sentence in Montgomery County, Maryland, for the slayings of 6-year-old Michele Dorr and 23-year-old Laura Houghteling. Showing a penchant for sending police on treasure hunts, last December he led police to a bucket with 230 pieces of women's jewelry buried in the Cape Cod property. One of the pieces was Laura Houghteling's high school ring. Clark told his inmate friend that the discovered jewelry was a collection of "trophies" from a two-decade long killing spree.
Police said they probably would have dismissed Clark's latest prison confession if Clark had not led police to Michele Dorr's remains, who had been missing since 1986. Last October, after seven years of denying any involvement in her disappearance, Clark pleaded guilty to her murder once the Jesus-like inmate asked him to confess. Her skeletal remains, which authorities had previously searched for in Massachusetts, Rhode Island and throughout Maryland, was found in a shallow grave covered by an abandoned mattress five minutes away from her home in Silver Spring.
In 1993 Clark was convicted of the murder of Laura Houghteling. Laura, a Harvard graduate, disappeared from her home in Bethesda on October 1992. Clark became a person of interest in the case when police discovered he had a history of mental problems and had occasionally done gardening for her family. Clark was arrested a month after Laura's dissapearence after police found his bloody fingerprint in one of Laura's pillowcases. Hoping to find her body, police set out in one of several unsuccessful searches in central New Jersey after Clark suggested he buried 'them' in a state where he had lived as a child. By June 1993 Clark pleaded guilty to second-degree murder in the death of Laura and led police to her body in a shallow grave not far from where he abducted her.
Because of statements he made while in custody for Laura's murder, Clark also became the prime suspect in the disappearance of Michele Dorr. Little Michele was last seen May 31, 1986, leaving her father's kitchen in a pink ruffled bathing suit heading to a turtle-shaped plastic pool in their back yard. At the time Clark was living in the basement of his brother's house, merely two doors from Michele's father's home. Following her disappearance Carl Dorr, her father, snapped under police pressure and confessed to the killing. He later recanted saying that he was going through a nasty divorce with Michele's mother and when his daughter went missing he had a nervous breakdown. However the father remained the prime suspect in the case until Clark was charged with Laura Houghteling's murder.
By 1999 authorities were able to pin Michele's death on Clark by using a Mitochondrial DNA test, a technique developed by the army to identify the remains of M.I.A. soldiers brought back from Southeast Asia. MtDNA only passes from mothers to their children. The test, which is considered less conclusive than nuclear DNA testing, is used only when nuclear DNA is limited or old. Maryland authorities had a private laboratory match bloodstains from the floorboards of Clark's home after he left his brother's house with DNA samples from Michele's mother. Clark later told an inmate that he stabbed Michele to death when he found her in his niece's bedroom waiting for her little playmate. He then threw her in a duffel bag and took her to his new home where he ate some of her remains before burying her. He also confessed to eating and torturing other women and girls.
Based on Clark's claims, the FBI opened several case files on unsolved child murders in Connecticut. Though he was a suspect in at least four cases around New Haven authorities have now focused their attention on another incarcerated serial killer, Harold Meade, who operated in the general area at the time of the unsolved killings. Meade, who is serving a life sentence for the bludgeoning deaths of three mentally retarded people in New Haven in 1970, denied killing anyone but the three murders he has been charged with. To prove his point he offered to give a DNA sample and asked for a polygraph test.
As for Clark, authorities are not quite sure if he is bluffing and taking them for a ride or if he is the serial killer he claims to be. That is, of course, until the Jesus-like convict convinces him to shut up or unearth more bodies.