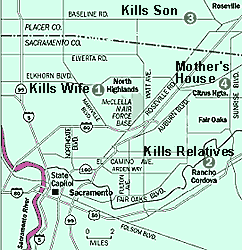 August 20, 2001 - For reasons unknown, Nikolay Soltys, a 27-year-old Ukrainian immigrant, stabbed to death his 22-year-old pregnant wife, Lyubov, at their home in North Highlands (1), a Sacramento suburb. Twenty minutes later he went to his uncle's home in nearby Rancho Cordova (2) were he killed his aunt and uncle, Galina Kukharskaya, 74, and Petr Kukharskiy, 75, and two of their grandchildren, Tatyana Kukharskaya and Dimitriy Kukharskiy. The two cousins were 9 years old. About an hour later Soltys went to his mother's house in Citrus Heights (4), another Sacramento suburb, from where he left with Sergey, his 3-year-old son. According to the mother Soltys seemed fine, and showed no sign of anything wrong. Police believe he was probably agitated and bloody, and cleaned up at her house before leaving.
Language problems between family members and police have hampered the investigation. Also basic mistrust of authorities in the Ukranian community have proved problematic. "Everybody's Russian -- neighbors, relatives, everybody," Sacramento County sheriff's Sergeant James Lewis said, adding, "We want to get this guy off the streets as quickly as possible." The last reported sighting of Soltys puts him driving with his son in a green 1998 Ford Explorer.
August 21, 2001 - Police discovered Soltys' Nissan Altima, with two family photographs inside with notes written in Russian on the back. One note had directions to the body of Sergey, his 3-year-old son. The second listed the slayings, suggesting that the victims were killed "for speaking out." As indicated on the picture, Sergey's body was found face down in a bloody cardboard box with his throat slit. The box was in the trash pile under a remote microwave tower outside Sacramento about a half-mile from the nearest road. The box had a several new toys inside, suggesting that the father lured the boy into the box with the toys before killing him. Sheriff's Detective Ron Garverick said two sets of footprints went into the area where the body was found. Only one set of footprints led out.
August 22, 2001 - Police in Sacramento searching for Nikolay Soltys, the 27-year-old Ukrainian immigrant suspected of stabbing to death his wife, child and four other family members, believe he could still be in the same Sacramento neighborhood where the killings occurred. They also canvassing Ukranian neighborhoods in San Francisco, Seattle and Charlotte, Noth Carolina, searching for the killer. Agents believe he could have gone as far as Binghamton, New York, where he once lived before moving to Sacramento. Fearing that he is not done killing family members, 14 of his relatives -- including his mother and brother -- were put under police protection in a motel in downtown Sacramento.
Soltys had a history of domestic violence before emmigrating to the United States. When his wife Lyobov was pregnant with Sergey, she told her brother Petro Nakonechny that Nikolay would beat her head against the wall until she fainted, then he would revive her with water and would beat her again. One account from the Ukraine paints a picture of police and family members coming to remove Lyobov from their home after a violent epidsode and a frantic Nikolay running around furiously and threatening them with an axe. Those who knew them said Nikolay never cared much for his son. In fact he resented the baby for taking away the attention from his wife. Though the had a volatile relationship, after emmigrating to the U.S. thgree years ago, Nikolay pinned for his wife until she came abouty a year ago to live with him in Sacramento.
At the time of the slayings, Nikolay was unemployed and on welfare. In the Ukraine he was trained as a shoemaker, but he really wanted to set up a automobile repair shop. He also considered careers as a paramedic and a a chiropractor, but his inability to learn English frustrated his hope of finding employment. Those who knew him said he was searching for meaning in his life and had difficulties focusing on his future.
August 23, 2001 - As the search for Nikolay Soltys has expanded nationwide, the family rampager was added to the FBI's Most Wanted list. Adding Soltys to the list means that there will be more publicity and manpower allocated to his capture, said Sacramento County Sheriff Lou Blanas. "Most wanted" posters of Soltys will be posted nationally and internationally, said Richard Baker, special agent in charge of the FBI's Sacramento office. Despite reports placing Soltys in the Southeast, police believe he is probably still in the Sacramento area. Also the reward fund for his arrest was raised to $70,000.
August 26, 2001 - With a police helicopter circling overhead, more than 5,000 members of Sacramento's Eastern European community of 70,000 packed into the Bethany Slavic Missionary Church for the funerals of four of the six slain family members.
August 30, 2001 - After a 10-day nationwide manhunt, Ukranian immigrant family annihilator Nikolay Soltys was captured at his mother's backyard in Sacramento where he was hiding under a desk. Soltys was arrested after his panicked family fled the home in a car and his brother called 911 from a framing shop several blocks away. According to Jennifer Murphy, an employess of the frame shop, Stepan Soltys was so nervous he, "kept pushing buttons 1-1-9, so I knew he wanted to dial 911. I brought him into the store and dialed 911 for him."
Apparently Soltys had sneaked into the yard during the night. Stephan saw him through a glass back door as he was having breakfast. Nikolay motioned for Stepan to be quiet, but Stepan instead assembled relatives in the garage, where police had installed a panic button. Neither the alarm nor a phone police had given the family worked, so the family piled into the car and fled. Unknown to them, there was two plainclothes detectives outside the house in an unmarked car. Once police determined that the suspect was in the backyard, the neighborhood was cordoned off and Soltys was arrested without insident.
Authorities believe Soltys had been staying in woods behind the house. A sleeping bag was found nearby, along with a backpack containing a knife "consistent with the murder weapon," Sacramento County Sheriff Lou Blanas said. At the time of his arrest Soltys had a metal potato peeler in his pocket and a map of the Sacramento area. He was barefoot, unshaven, dirty, shabbily dressed "and looked like he could have been hiding in a field somewhere," Blanas said.
September 6, 2001 - Sacramento County District Attorney Jan Scully charged Nikolay Soltys with the murder of his unborn child, bringing the total muder charges against him to seven. "Baby Soltys is a seventh victim and it's appropriate that all victims be charged, and that's what we have done," Scully said in a news conference. Investigators have been unable to establish a clear motive for the killing spree, other than he thought his wife and relatives were trying to poison him.
September 9, 2001 - Thousands of mourners in Shumsk, Ukraine, attended the funeral of Lyubov and Sergei Soltys, the immigrant mother and son killed by Nikolay Soltys, her husband (and father), in Sacramento. The two white coffins first arrived from Sacramento to the airport Ukraine's capital Kiev. Relatives then took the bodies to the victims' hometown of Shumsk, 220 miles away, in western Ukraine, for a burial ceremony. The first reports of the killings rattled this little town of one- and two-story brick homes in the western Ternopil region, and the whole town was overwhelmed with mourning. Most of Shumsk's 5,000 residents came to express their condolences.
February 13, 2002 - Ukrainian immigrant and family annihilator Nikolay Soltys was found hanged to death in his Sacramento jail cell. But Nikolay Soltys' attorney, Tommy Clinkenbeard, said he was not convinced the man took his own life, and the sheriff ordered a more extensive investigation. Soltys used a rope braided out of cloth ­ possibly from his bed sheet or a cast he was wearing on his leg ­ and a plastic bag, Blanas said. The rope was attached to a light fixture 5 feet off the ground. Blanas said the 6-foot Soltys apparently leaned against the rope until he lost consciousness. "This was not an instant death," said Clinkenbeard. "He was essentially choking to death." Soltys' body was in a corner of the cell out of view of the surveillance camera, Blanas said, and the microphone picked up no unusual noises. No suicide note was immediately found.
February 14, 2002 - Three separate psychologists said Sacramento killer Nikolay Soltys wasn't a suicide risk. He had a surveillance camera and hidden microphone monitoring his jail cell around the clock, and three guards checked on him hourly. Yet the Ukrainian immigrant and family annihilator somehow managed to hang himself in his cell at the Sacramento County Jail. "I can't put 2,200 officers over there to hold the hand of every inmate," said Sheriff Lou Blanas, who oversees the jail, adding that preliminary investigations indicated officers followed procedures.
Soltys had last appeared in court three days before killing himself in a wheelchair after jumping off a jail balcony in December. Jail officials said he had leaped from the second floor after he was ordered back to his cell. He was placed under a medical watch in October after he punctured his chest several times with a pencil. Clinkenbeard said he was merely imitating other inmates by giving himself a jailhouse tattoo. He was returned to his cell after psychiatrists decided he was not suicidal. Clinkenbeard had been considering an insanity please for his client, saying he believed Soltys may have been mentally damaged at birth or as a child.